So, as I was saying before, I really need to get a move on as far as Christmas presents go. I figured a certain amount of time per knitted project and plotted them all on my calendar. I was getting a little tired of the second Kai-Mei sock and so even though it's not done yet, I decided to start something new last night. So my needles jumped into some Katia Mexico yarn in a beautiful stripey gray colorway and went to work!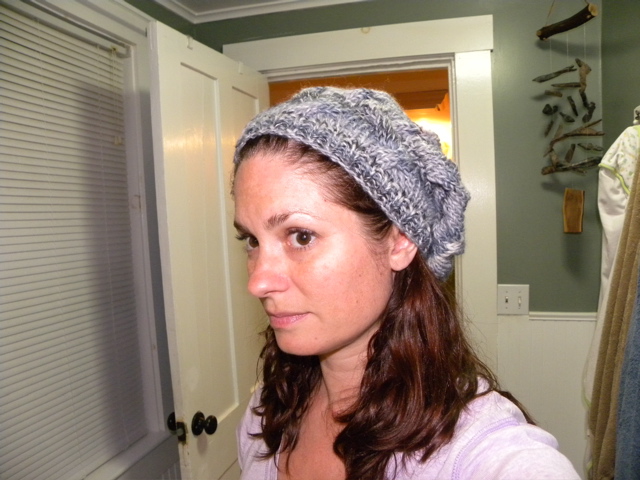 The needles became a blur as my hands knitted something bigger than sock yarn! How quickly a project can grow when you're using size 11 needles and yarn 3 times bigger than sock yarn. So refreshing…I had forgotten.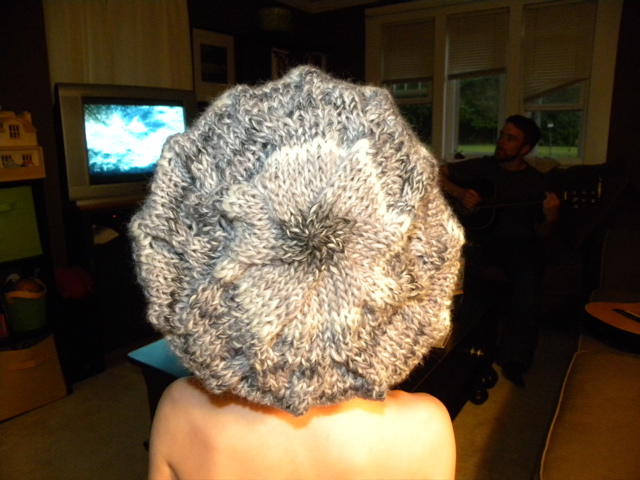 Before I knew it, I was done! I weaved in my ends and found a perfect little half naked 4 year old to model the beret for me.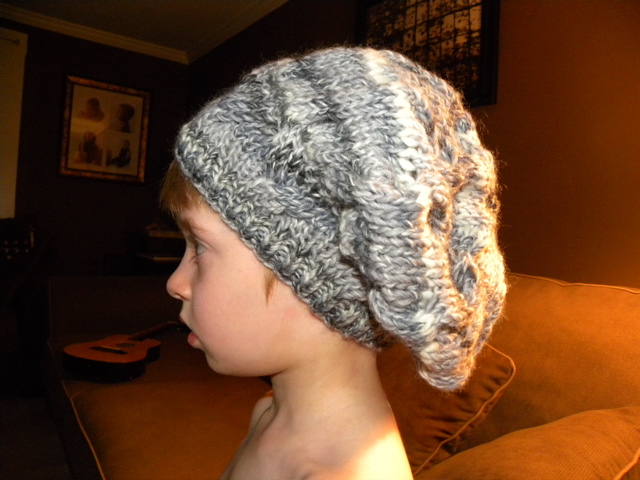 He was pretty engrossed in watching the sharks on TV (it's Shark Week people) so I don't even really know if he knew he was modelling a hat.
So, the pattern says you should block the beret by spreading it over a dish or pie plate and spritzing with water.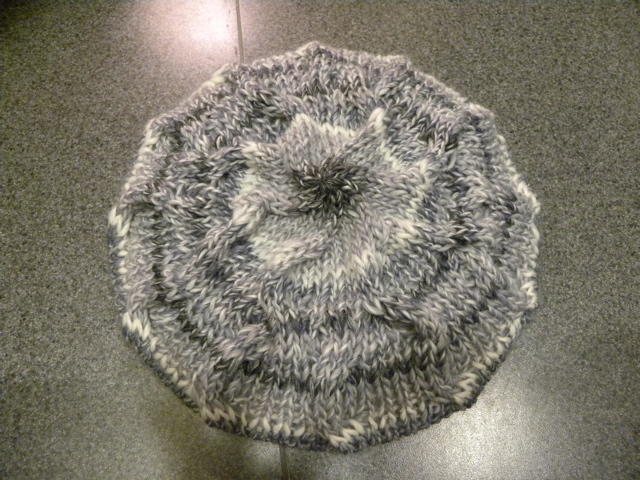 Well, I stretched it over a dish but I have no spray bottle and can't think of how else to spritz this thing, so I might not bother with the blocking. It doesn't really seem to need it.
The pattern is called Star Crossed Slouchy Beret by Natalie Larson. You can find it on Ravelry here. It was obviously quick and easy and I thought it was great fun. I will make it again using a solid colored yarn. Don't get me wrong, the yarn I used was quite nice, soft and not itchy at all, and I love the soft grays and white…perfect winter colors….but I think the pattern will stand out better with a more solid color. When I've made a few, then I'll decide which ones to give to who. Maybe one could be coming to YOU!