So, I wanted to add something else to my shop. Hand dyed roving. I've been saying I was going to try it for some time now, but hadn't had the chance… or the bare roving. Today was the perfect day to give it a whirl! And the perfect time to try out my new "green" dye. This dye is more environmentally responsible, but a bit more expensive than the dye I've been using. I'm curious to see how it will turn out.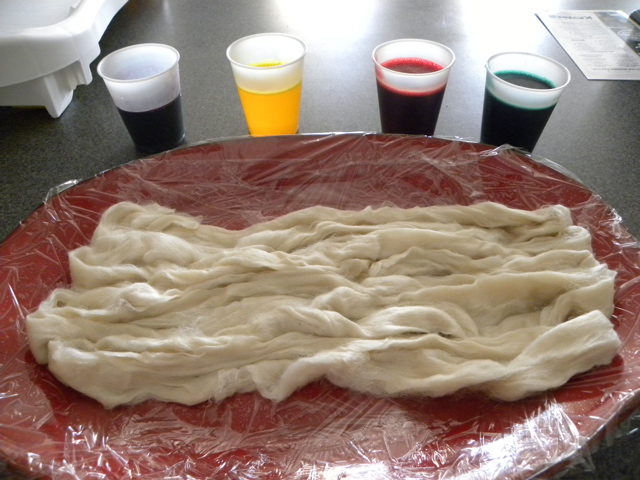 Above you see a bare merino/silk blend, presoaked in a vinegar/water mixture. It's shivering with excitement about being a different color. It really is, you'll just have to trust me.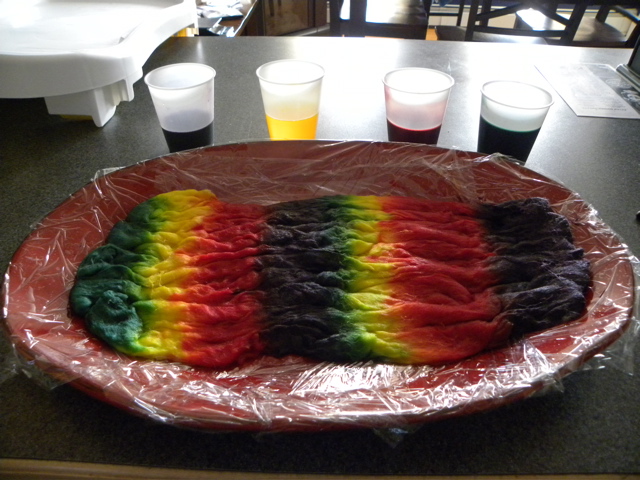 And here it is, relaxed and soaking in the color. It's hard to tell from the picture, but the darkest color is actually purple, and then there's red, yellow and green. Let me tell you, this was not easy. I used a syringe to apply the dye, and even though it looks like it's soaked all the way through the fiber, it's not. At all. In fact, when I peeked underneath, the entire bottom was still mostly white.  Even after I added more dye and pushed and pressed and manipulated, the dye had a hard time spreading to the bottom. But after enough gentle prodding, it seemed good. And it blended to make a much better color combination, which is what I was hoping for. When I was sure it was saturated, I folded the roving in the saran wrap lining the plate, placed it in the colander and steamed it for 30 minutes.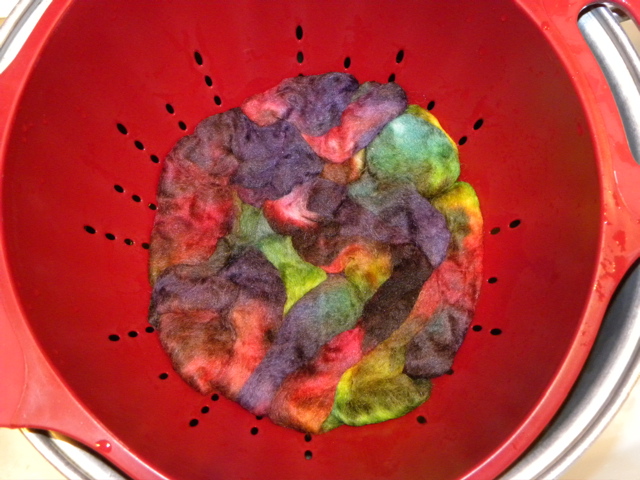 Here it is after the rinse. I meant to take a picture of it being steamed, but I forgot. The water was clear right from the start. The roving sucked up ALL the dye. I still rinsed it a ton, not to get rid of any excess dye, because there wasn't any, but to get rid of the smell of the vinegar. I even use a little Burt's Bees Baby shampoo. (This is how I rinse my yarn too.)I did this all VERY carefully, as I've been told it's quite easy to accidentally felt your roving. When I say "rinse", I mean gently lowering the roving into clean water and then lifting it out. Then lowering it into more fresh water, pushing on it gently, then lifting it out again. I do this maybe 10 times or more.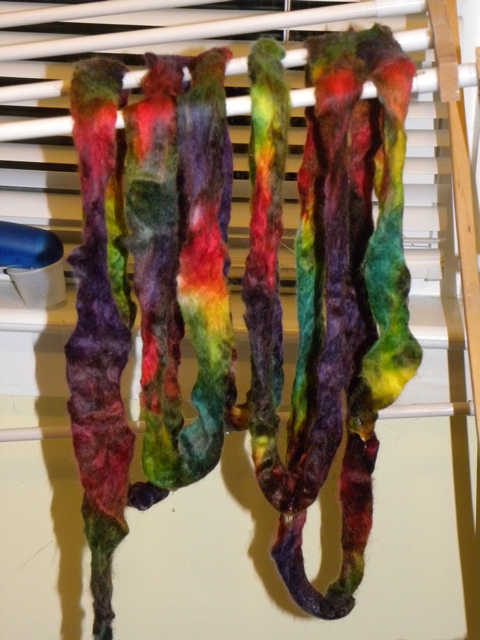 And here it is, drying on the rack. So far so good! I can't wait to see what it looks like when it's dry.
I also finished another slouchy hat for a friend. It's the same one I made for my mother in law for Christmas, the Slouchy 2-Way Cabled Hat. And now I'm going to start it again for another friend!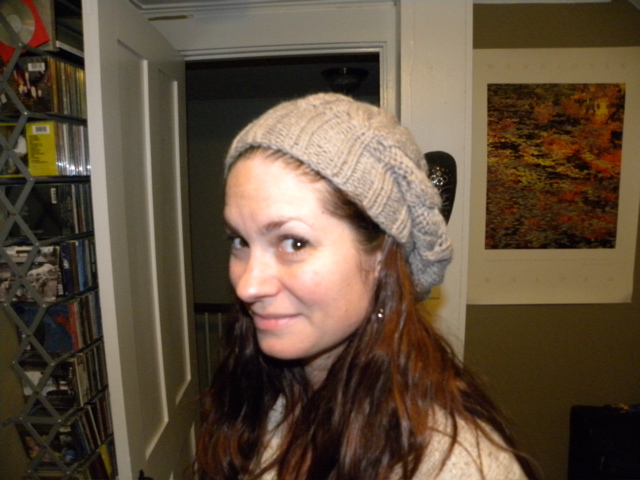 And today I sold my 8th skein of yarn! Say bye bye to Crime Scene. It's the 2nd skein I've sold to someone who didn't actually know me! He asked me to wind it into a ball, so I thought I'd take a picture of it before and after. It's always so cool to see the skein turn into a ball. It gives you a better idea of what the yarn will look like when it's knitted up.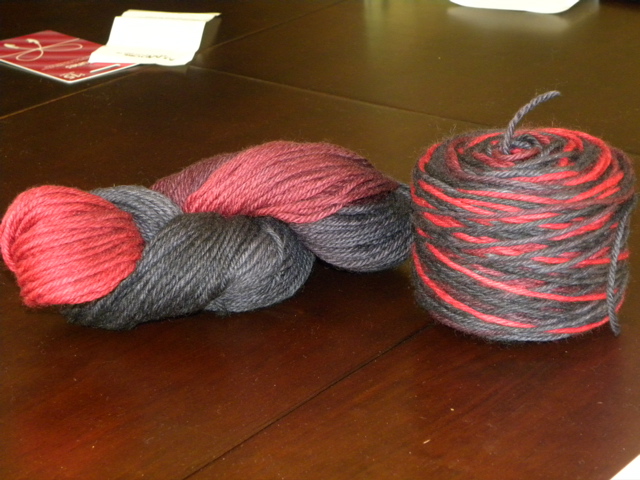 So tomorrow I might post again, I have some Baby Alpaca drying next to the roving, and I can't wait to share with you!