I'm sitting in a warm house, with leftover tacos and a chocolate chip cookie in my belly. The snow is still falling outside and I get to have a long 2 hour lunch break. The house is semi-clean, I just finished another knitting project last night, and I'm enjoying the anticipation of starting a new one. My family is healthy, and aside from a small case of sniffles, so am I. For whatever reason, as I sat here next to a fake fire, sipping a cup of tea, I felt suddenly overwhelmingly thankful to God for EVERYTHING. The big things, the small things, and everything in between. My life has been a blessed one since the day I was born, and I'm so undeserving, and so thankful.
This is what I'm spinning.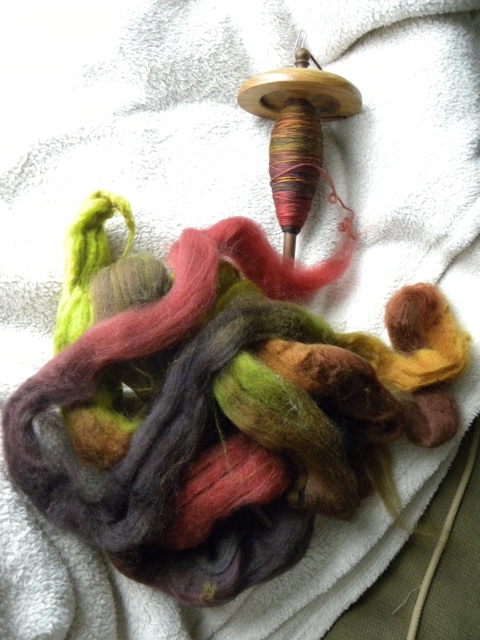 I'm in love with the colors and I'm going to try to dye some yarn with these variations.
This is what I finished last night. It's the Gaptastic Cowl. It can be worn in different ways. See?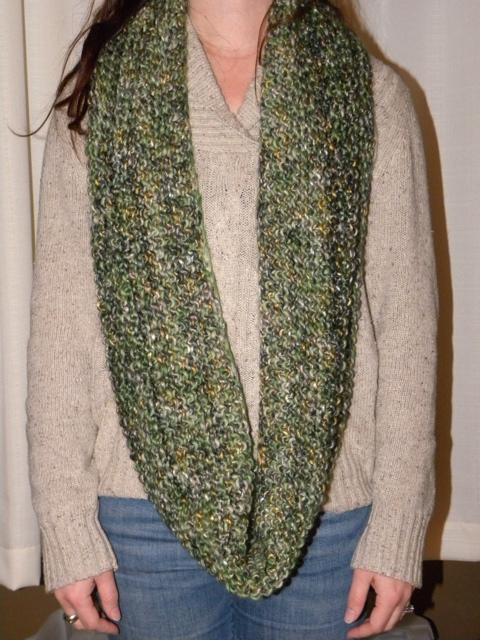 My brother in law, Chip, picked out the yarn for this. Good choice Chip! If I haven't mentioned it before, Chip is a leatherworker, and sells his wares on Etsy too. You can check out his shop here. He is the owner of Hawk Studio. Crazy talented, and has great taste in yarn too.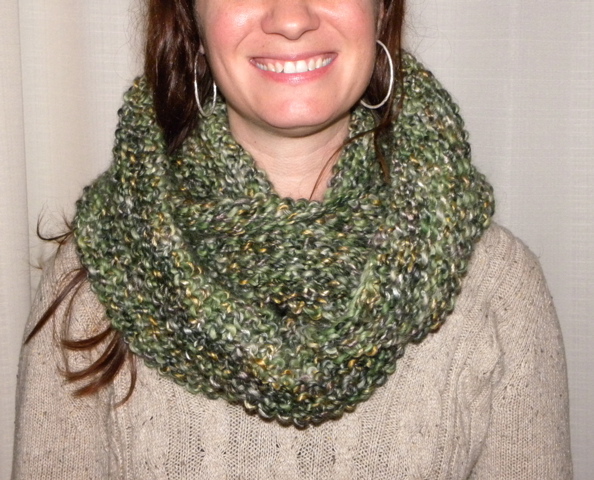 I think I would like to start the Juneberry Triangle next. My sister bought me the yarn for it last year, and it was supposed to be my February project for this year. I'm a little ahead of schedule, but no doubt, it will take me longer than a month to complete. I will need help with the edging, I can tell already, but the incredible ladies in my knitting group will help me there.
I'm very lucky to have become friends with a group of ladies who get together on Sunday nights at Starbucks, all of them way more experienced than me, and soooo nice, as I find most knitters are.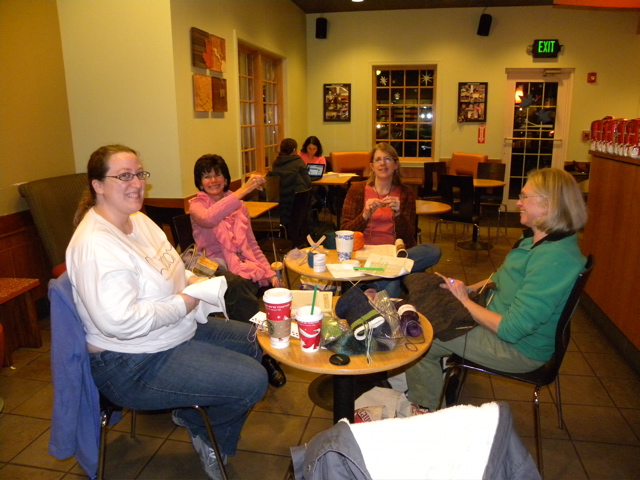 Vicki, our fearless leader, (third from the left) is knitting a sweater on SIZE ZERO NEEDLES.  A sweater! I would not believe it if I haven't seen her doing it each Sunday. She is the one who inspired me to spin on a drop spindle. I watched her do it for 2 hours the first time I met her, and I couldn't wait to give it a try myself.
I've had two sales so far in my Etsy shop! That makes me very happy.  🙂 Taking the pictures and trying to get an accurate representation of the color has proven to be the hardest part so far. Below, you will see my photography studio. (Otherwise known as our bedroom with a white fleece blanket.)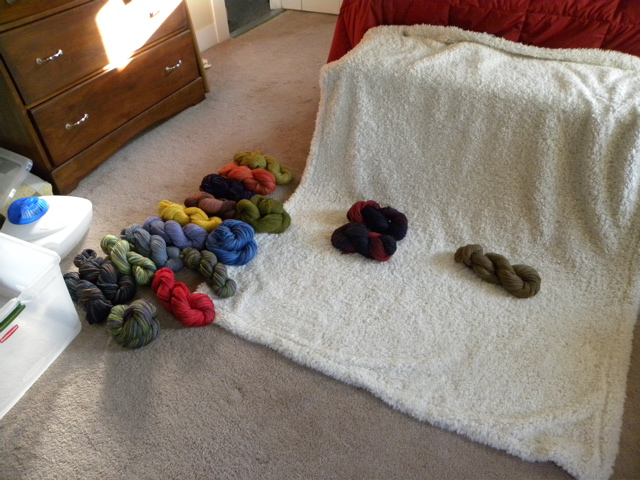 The yarn is very well behaved, each quietly waiting its turn. (The red gets a little uppity, but it's red, and that's how red is.) It's the lighting that gives me problems. And my horrible camera. But I can't complain about the subjects.
*                                          *                                    *                                      *
Well, now it's late and I'm going to bed. I wrote this blog at lunchtime today but had to wait until tonight to upload the pictures. Goodnight everyone…my bed and my book are calling to me.