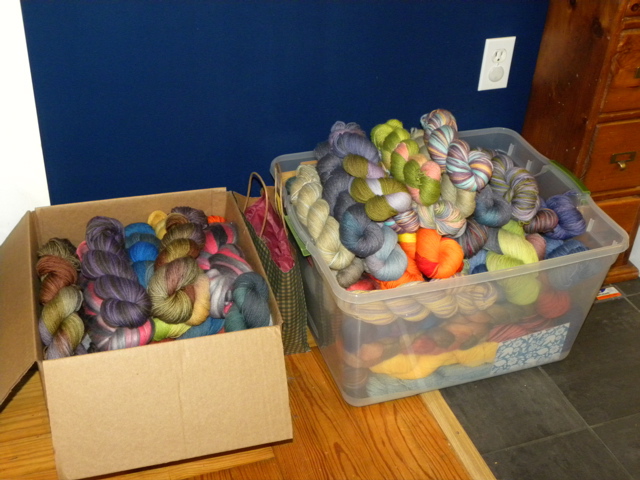 So much has been going on. Things have been getting done. Mustard Seed Yarn Lab has become a tiny bit more popular this month with 6 Etsy sales! (I typically have been averaging 2 to 3 Etsy sales a month.) I could spend this entire post catching you up on all the goings-on, but I won't. That just feels too overwhelming to me and I already feel a little overwhelmed with life as it is, so I'll just tell you a little bit.
I now have a Facebook page for my business! Please head over to www.facebook.com/mustardseedyarnlab to 'like' my page if you'd like to know a bit more about what goes on in the lab from day to day (or at least every few days). I've been posting all the new yarn creations there as they come into existence. Sometimes I need name ideas and I love getting feedback.
I have 1000 business cards coming my way. They were designed by my husband, as was my logo. And my blog will soon be undergoing some major changes as well. His graphic design talent never ceases to amaze me. And he's cheap too! (Well, if you're married to him.)  If anyone reading this needs something designed, (business cards, a logo, a website) let me know and I can direct you to him.
So last night my friend came over for dinner and for a little catch up time. I told her I could sit and talk with her but I had to dye yarn while she was here, because I'm still desperately trying to finish 200 skeins before September. She offered her help, and MAN, did she help!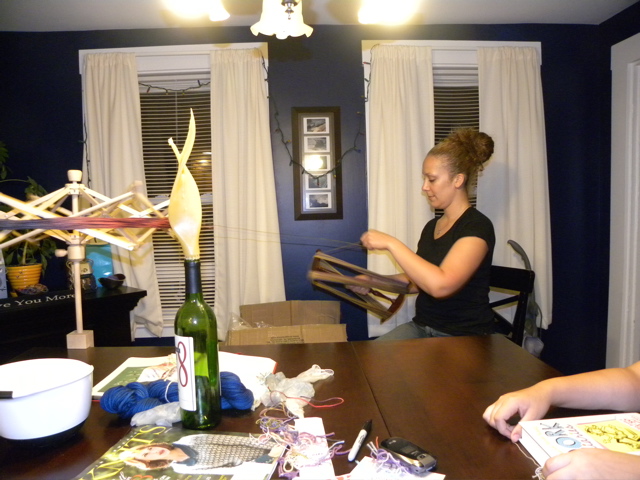 The hardest part of dyeing yarn for me is reskeining the skeins that need to be reskeined. Some I leave as is, because I like the way they look the way they are, but most need to have the colors redistributed to really get a better idea of what they'll look like knitted into something. This hurts my back. A LOT. To do this you use a niddy noddy and wind the yarn around it a million times. I typically won't reskein more than one a day. Well, Wendy, my strong, volleyball playing friend, wound 10 SKEINS for me in one night!! And all I did was make her soup! Talk about cheap labor. If a bowl of homemade creamy chicken and rice soup gets me 10 skeins reskeined, next time I'm going to make her filet mignon and see what happens.