There is a very nice gentleman I work with who really has an appreciation for handmade things. Before Christmas he commissioned me to make him a scarf, but before I could get going on it he commissioned me again to make a pair of fingerless mitts for another coworker for Christmas. After I finished those he asked for another pair for her daughter. It's a great pattern…very simple and good for showing off hand dyed yarn. I've made them before for myself and my niece, and after I made the two pairs for the man I work with, I had enough yarn left over to knit up another pair for my friend Maiya, who has very cold hands at work. Here is Maiya's pair: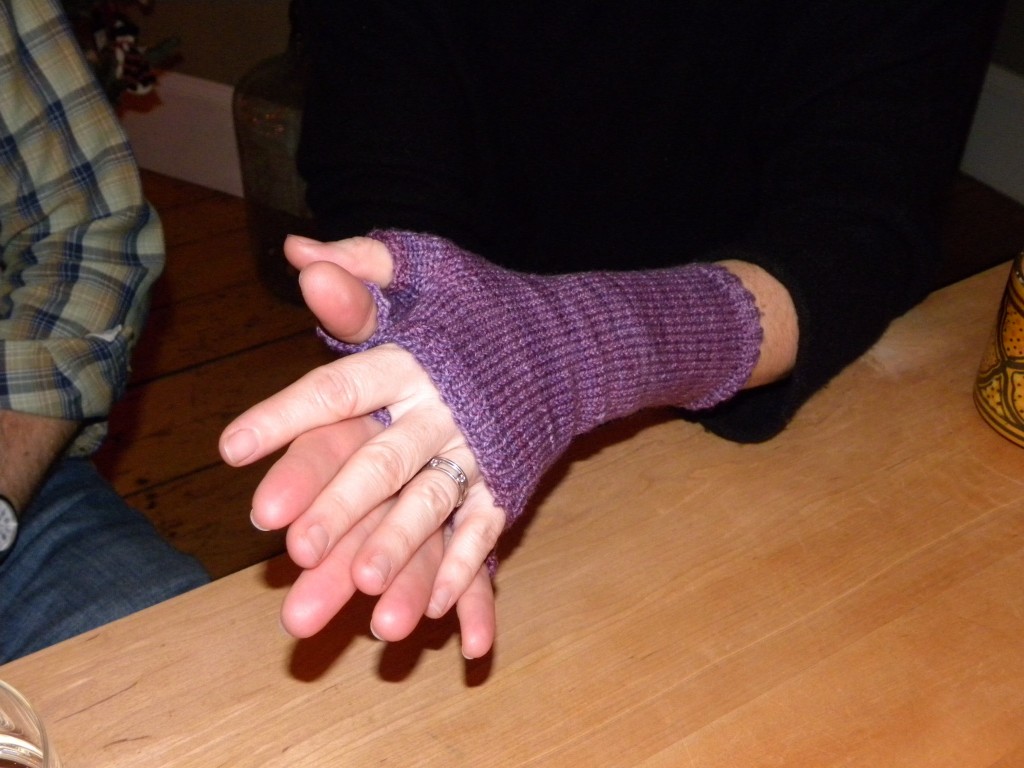 If you'd like the pattern, you can find it here  on Ravelry. They're called Easy Handspun Mitts. They use sock yarn. Great for knitting while watching TV.
Finally, when I was done knitting 4000 pairs of fingerless mitts (or three pairs in a row…which feels like 4000 pairs) I got started on the scarf. Click here for the pattern. I used my own Mustard Seed Yarn Lab yarn, a bulky weight I called Triton. I started this scarf over 4 times or more, trying to get the right size, the right density, using different needles and tweaking the pattern just a bit. Wanna see what I have so far?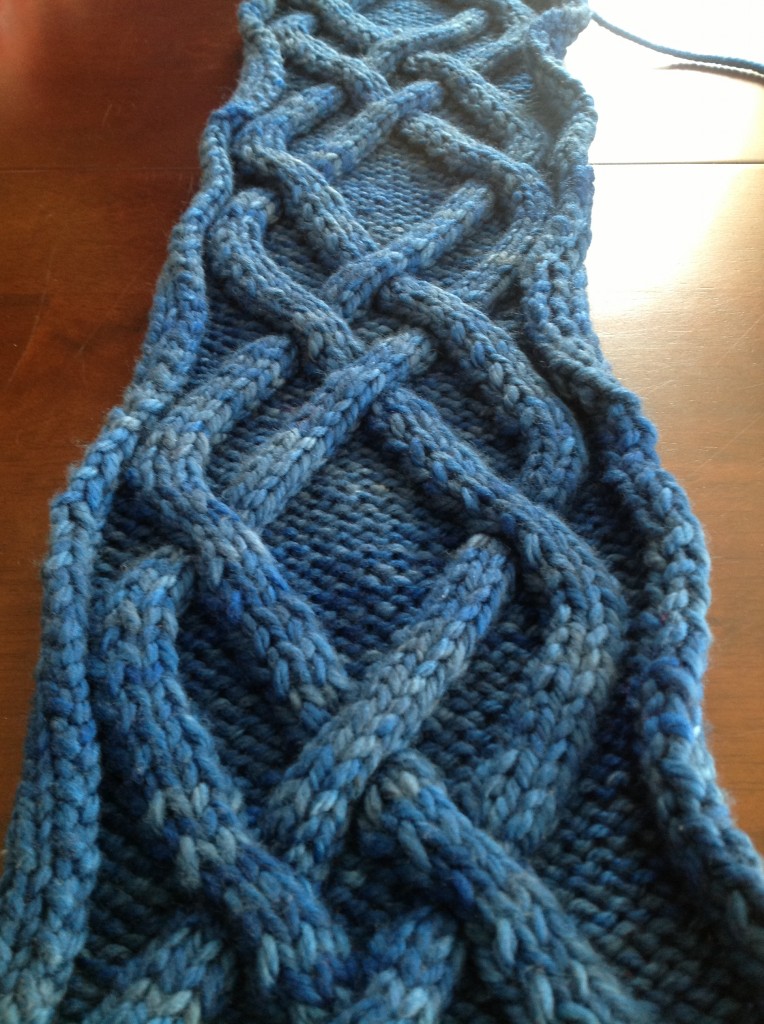 Oooohhh…cables. I love cables, but I'm not crazy about knitting them. And I have to say I'm horribly nervous that this scarf is going to roll itself up into a tube when it's done, even after I block it. I keep saying, "No no, once you block it, it will be fine. It will straighten out and lay flat. Don't worry so much. You are amazing. And those dishes can sit in the sink awhile longer." But that other voice in my head keeps saying, "If it's rolling itself into a tube now, blocking will only help it for a little while…and then it will roll up on the poor man once he starts wearing it. What are you going to do, block it for him every week, like a dry cleaning service? And that kitchen is starting to look like a disaster."
Not sure which voice to listen to, I decided to just keep going. I've simply got too much time invested into this scarf, and the thought of ripping it out (again) and trying to figure out a way to make it not curl….sigh….I just don't want to. (whine) So we'll see what happens after it's blocked.
So would you like to see some other people's creations made with my yarn? I sold my Robot Takeover yarn to my friend Amy a long time ago…in fact, she was one of my very first sales. She finally had a chance to knit it up and I wanted to share her creation: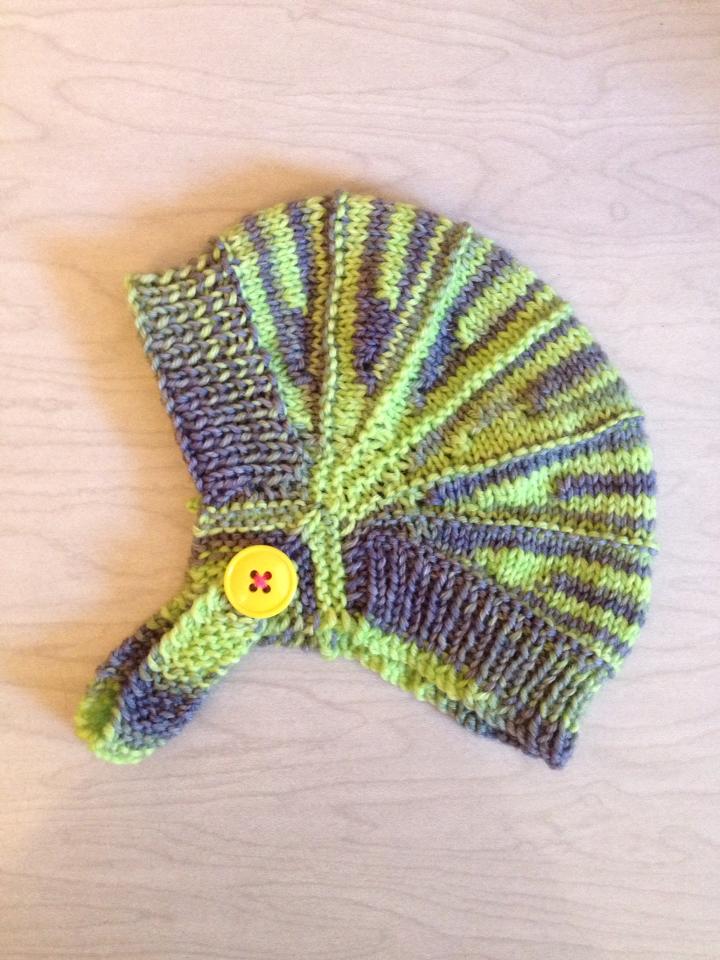 And then we have Hallie in CT. Hallie bought my Fire Storm yarn and recently sent me this picture of some fingerless mitts she knitted up during Hurricane Sandy as a gift for a cousin.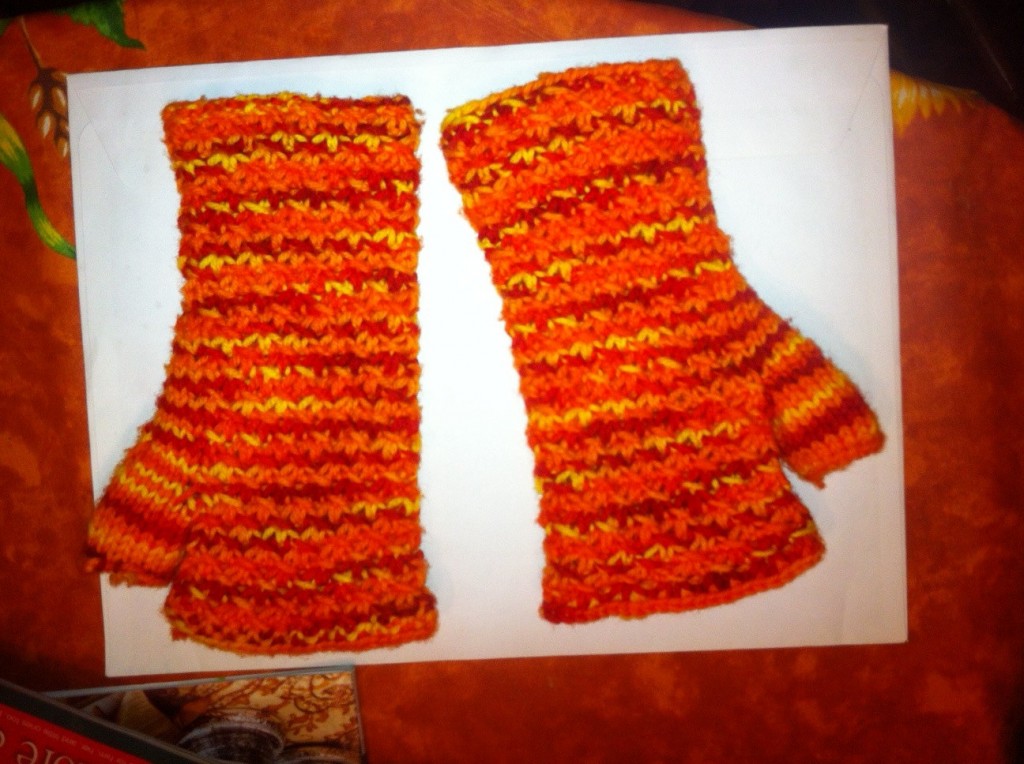 Hallie doesn't know this but that yarn was originally dyed by request for Julia Roberts. No really! I got a request one day from a Julia Roberts on Etsy to make some yarn that looked like my Inferno yarn, but with less pink. She wanted to make a poncho for her 7 year old son. There was no personal information about her on her profile, but I had a feeling it could very well be THE Julia Roberts. After all, Julia is a knitter and has a son that age…and a daughter. Twins. So I dyed up 3 skeins of it and thought it came out even better than the original yarn she had liked, but when I sent her the picture, alas, she said her son had changed his mind, and that sometimes he was even pickier than her daughter. So this Julia Roberts was a) a knitter  b) had a son the right age and c) had a daughter too! That's all the convincing I needed. In my head, it was her. And it's ok that she ended up not wanting it….I had told her I would dye it up and show her the picture and there was no pressure to take the yarn. And in the end, all worked out for the best, because Hallie bought Julia's yarn and made something beautiful! So Hallie, if you're reading this, you can tell your friends you snagged yarn made for Julia Roberts. And that's not a lie…the person's name really was Julia Roberts.   I guess we'll never know for sure   🙂
BTW, I just finished The Kitchen House, which I really liked. Next up : Gone Girl by Gillian Flynn. I've heard good things about it. Anyone else out there read it? Is it as good as all the hype?